Product description
EDDM
®

 Postcard Printing


The EDDM™ program lets small businesses such as beauty salons increase sales for less. When using this program, any small business owner can attract new customers to their salons with great offers. When the offers are mailed out to prospective and current customers, the small business owners should present them with an offer "that they can't refuse". With the Godfather in mind, your offer should be one that makes it hard for your customers receiving them can take lightly. The value and benefit that you build your mailers around should reflect your business and the advantages in receiving services form your salon.

The easy, affordable and most effective way to reach the homes and business that matter most.
Advanced Mapping Tool
No Mail list needed
No Permits Required
What is Every Door Direct Mail®?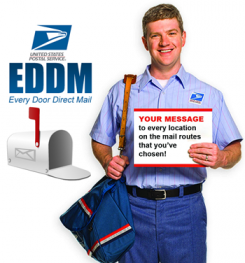 Reach the customers that matter most, for less. It's direct mail made easy and affordable.
Oversized Postcards

No mailing list required

No need for addressing or sorting

No mail permit required

Postage as low as 16¢ per piece
We offer print only and Full Service EDDM®
Quality. Service. Price.
911Prints.com provides the highest quality paper stocks and print at the most competitive prices, backing it up with unparalleled US based customer support.